Lake District Christmas Market's 2018
Posted 30th July 2018 by
Experience the magic of a Lake District Christmas market
The elves here at Lakelovers HQ are already busy with a flurry of Christmas bookings. And as this flurry turns into a deluge of festivity, we thought we'd better update our guide to one of the season's most popular events, the Christmas market, to help with your Christmas in the Lake District planning.
From German Markets, fun fair festivities to traditional Victorian Fayres and indoor Christmas events, there's Christmas cheer across the Lake District. Where will you find yours?
Hawskhead Christmas Fair & Beer Festival  – Saturday 1st & Sunday 2nd December 2018, 10am-5pm 
This is a traditional family event with something for everybody. Jugglers, street theatre, lantern parade, live music and carol singing will entertain kids. And parents will be happy with the Winter Beer Festival hosted by the local pubs. Over 50 stalls means you will actually be able to pick up some gifts too, as well as take in the wonderful festive atmosphere.
Visit our Hawkshead Cottages.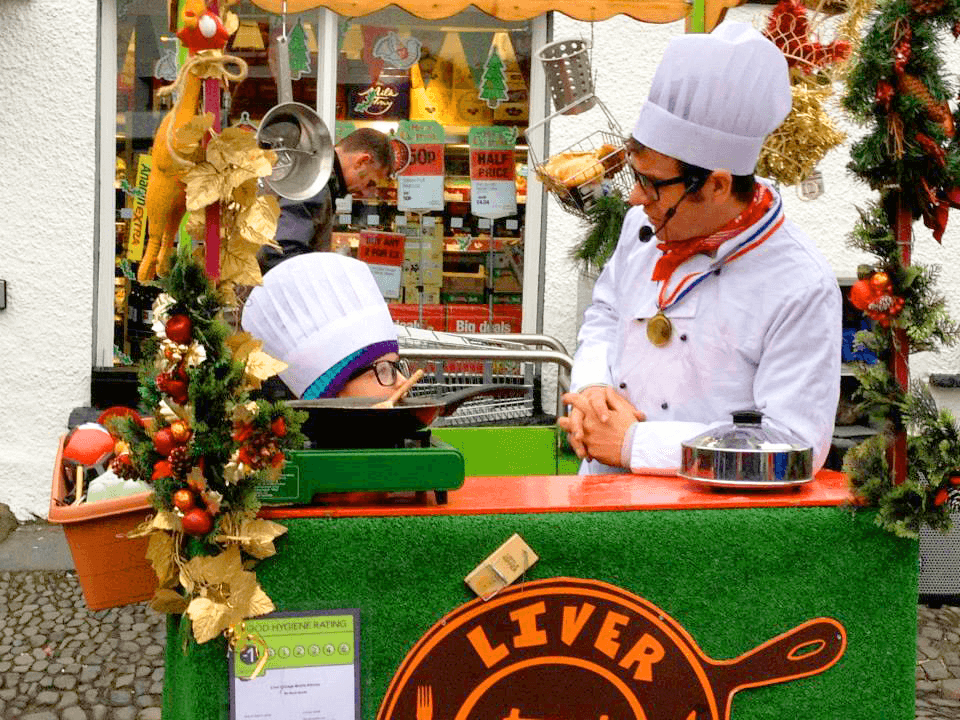 Blackwell Christmas Craft Fair – Saturday 1st December 
This is a shoppers event for if you're actually looking to browse and buy extra special Christmas gifts directly from some of the region's finest craft producers. Based inside the UK's finest example of an Arts & Crafts House, Blackwell. A visit to this event makes it difficult not to get into the craft spirit this Christmas.
You'll find various local materials and skills on show at Blackwell's 2018 Christmas Craft Fair. Ceramics, textiles, scarves and blankets and wooden decorations, to mention a few.
The stalls are scattered across the house, along with festive activities throughout the day. Such as paper garland making, so this could be an event that all the family could enjoy. Especially when little legs can enjoy a run around in the beautiful winter gardens afterwards
Visit our Coniston Cottages.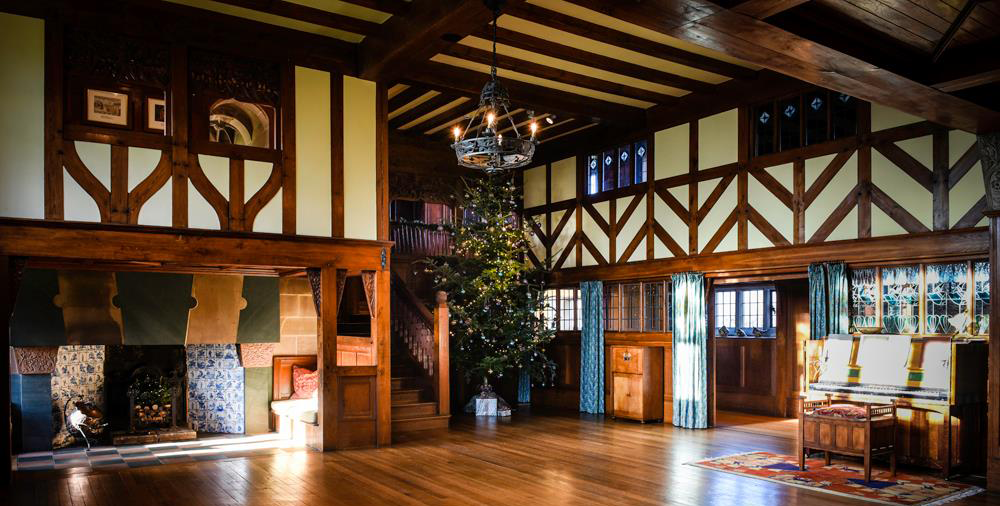 Keswick Victorian Fayre – Sunday 2nd December, 10:30am – 4pm 
This is an outdoor event, so please wrap up well. And what an event it is. If you're looking for family festive entertainment then this is the fayre for you. From Victorian costumes, a nativity scene, the arrival or Santa and Mrs Claus in a reindeer-drawn sleigh. A children's fun fair, live music and dance performances drawn to a close with a carol service, this is a spectacle that will warm away any wintry chills. Bring your purse too, as there will be over 30 charity stalls, selling a selection of Christmas homemade crafts, produce, festive food and drink – delicious!
Visit our Keswick Cottages. 
The Mason's Arms Christmas Market – Sunday 2nd December, 12:00 noon to 4:00pm 
This is ideal for couples where you can enjoy a leisurely lunch and take in the delightful local craft stalls too. Hosted in the beer garden of this delightful country pub in the Lyth Valley, South Lakes, this is an intimate grown-up festive event. The Mason's Arms is a gastro pub, located just outside Bowland Bridge. It is the ideal place to 'leave the high street behind'. Enjoy mulled wines, cider and mince pies plus a festive BBQ with great music throughout the afternoon and stalls selling local gifts.
Orton Farmers' Market – Saturday 8th December 
Set in the remote north Cumbrian village of Orton near Penrith, this farmer's market is very popular throughout the year. And the 30 stalls the second Saturday of the seasonal month will be as popular as ever. Offering a wide variety of fresh local produce from seasonal veg and outdoor reared meats to artisan and award-winning pies, relishes and cakes, this is the perfect place to stock up whist on a self-catering holiday. Do wrap up warm as this is an outdoor market in an un-sheltered location. Rheged Discovery Centre is not far away to warm up. Plus there are a couple of pubs in the village where you can enjoy an open fire and good pint.
Visit our Ullswater Cottages.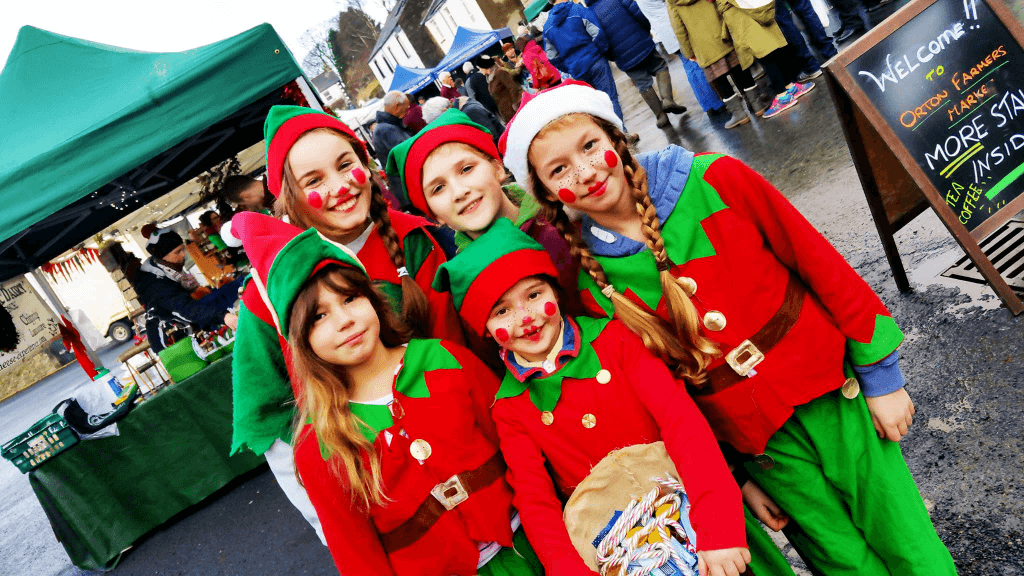 Santa Express, Lakeside Railway – Dec 1 – Dec 16
Whilst this Christmas event is not a market or fayre, it is perhaps the most popular Christmas event in the Lake District for families. So we wanted to mention it as early as possible in 2018 as early booking is essential. The Santa Express offers 1 and 1/2 hours of fun-filled festive entertainment and so we can see why it is so popular. When you join the Santa Express, it's as though you're part of a festive panto. With elves dishing out festive drinks to parents and carol singing before you hear, with much anticipation, the man in the red suit arrive in the carriage next door. Before the steam train journey from Lakeside to Haverthwaite is complete, children choose a gift from Father Christmas. Truly a fun and interactive Christmas even not to be missed this year.
Whilst here isn't a Christmas market as such here at Lakeside Railway, for Thomas The Tank Engine fans and train fanatics, nip into the gift shop to pick up stocking fillers and Christmas pressies, whilst excited little nippers are distracted.
Visit our Lakeside Cottages and collection of Lake District family friendly cottages across the region.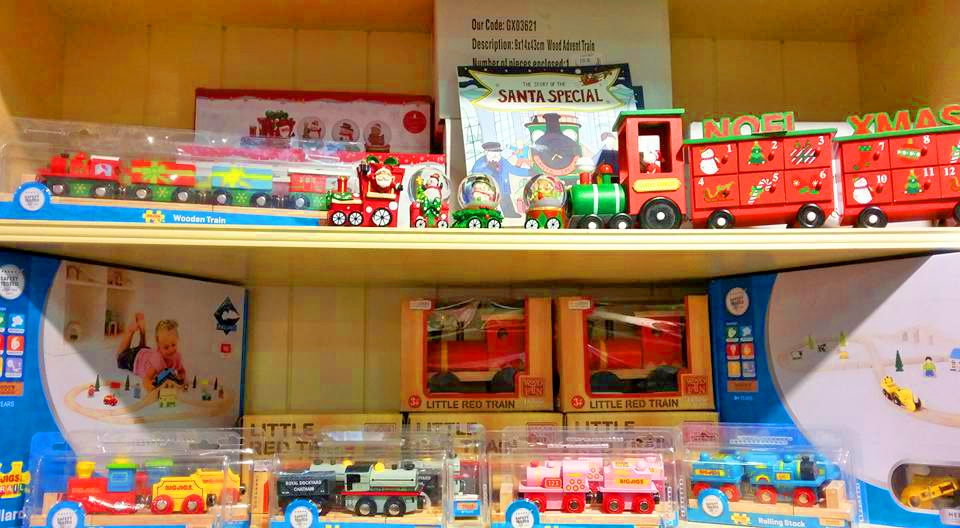 Windermere – Christmas Celebration – Saturday 8th December 2018, 11am to 6pm & Sunday 9th December 2018, 10am to 4pm 
The entertainment budget grows as this event plans its third year. The Windermere Christmas Celebration which promises snow cannons, Santa's Grotto, live music. Plus a record-number of local and national stallholders. You don't need to be staying in Windermere to enjoy a hassle-free visit to this festive event. There is a shuttle bus provided for the event running from Windermere Lake Cruises Pier 1 in Bowness. You'll find food, drink and craft with a festive theme across over 50 stalls.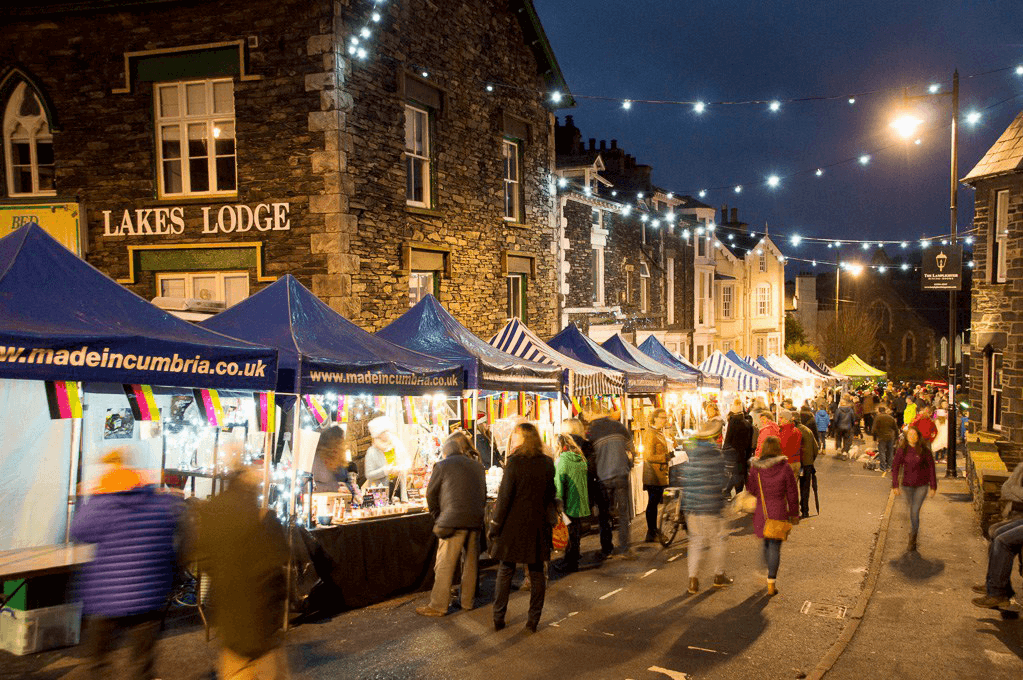 Cartmel Christmas Food Market – Friday 16th December 
For foodies, the south Lake District village of Cartmel is a blissful place to visit. On the third Friday in December, the monthly Farmers' Market takes a Christmas theme. It includes stalls from local producers such as Furness Fish & Game, The Chilli Man, Deer n Dexter and Signature Soaps to name a few popular stalls. Whilst this village grew around its Medieval Priory, today the streets are filled with artisan shops from local crafts folk. Such as the educated selection of beer, wines and cheese from Unsworth's Yard, home to Cartmel Brewery, Cartmel Cheeses and the Drinkshop. Plus the world-famous Sticky Toffee Pudding is still hand-made in Cartmel and sold from the quaint Village Shop. If you're shopping for a foodie this Christmas, head to Cartmel! Read more about a foodie trip to Cartmel here.
Staying in one of our Cartmel Cottages, with famed chef Simon Rogan's top restaurants in the village as well as Morcambe Bay views, is a Christmas treat itself!
Holker Hall Celebrates Christmas  – Fri 30th Nov – Sun 2nd Dec, Thurs 6th – Sun 9th & Thurs 13th – Sun 16th December
Sophisticated as Holker Hall and Gardens is, this is not just an event for the grown-ups. A wonder through the Hall decorated beautifully for the festive season is a treat for romantics and kids will love the visit from Santa as well as interactive festive activities. If there's a frost on the ground, then the experience of Christmas on a grand English country estate is evoked even more.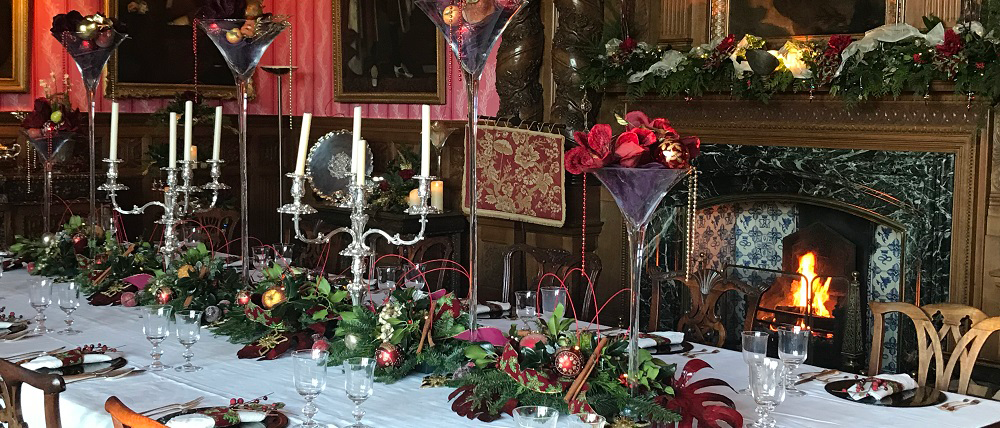 Winter Wonderland at Hayes Garden World, Ambleside – until 23rd December 
Take young kids to the largest garden centre in Cumbria, in the centre of Ambleside, for one of the most popular Christmas attractions in the Lakes. In 2017, the German-style market was enchanting. 2018 promises more festive magic and a festive shopping experience like no other. Christmas with Hayes Garden World promises lots of festive lights, jingle bells, artificial snow and plenty of interactive fun. And of course, once you've completed your enchanting journey through Winter Wonderland, a magical wooden grotto awaits with a very special, jolly man waiting inside to greet good girls and boys. Even grown-ups find it hard not to get into the festive spirit after a magical visit to the Winter Wonderland in the heart of the Lakes.
Ambleside is a bustling market town and we have a range of accommodation which you can browse here, Ambleside Cottages. 
Don't forget to have a look at our Lakelovers Recommends page to find discounts and special rates for top Lake District attractions and dining options, including Rheged and Windermere Lake Cruises.
Do get in touch with our customer service team on 015394 88855 or via Facebook or email bookings@lakelovers.co.uk if you need any further advice on Christmas bookings.