Places to Eat and Drink in Coniston
Posted 15th March 2019 by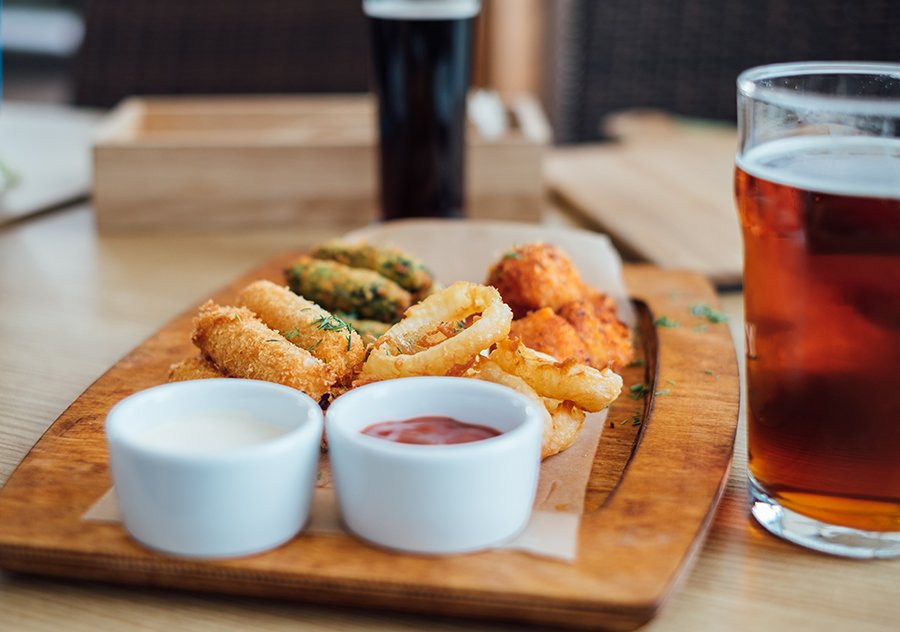 Choose a restaurant, pub or café in Coniston and dine in the company of champions and legions.
In Coniston, south Lake District, you'll find award-winning Coniston beer and readers' choice award dining.
Outside of the culinary world, Coniston is home to many legends, including world record holder Donald Campbell for breaking the world water speed and England's leading art critic of the Victorian era, John Ruskin.
And perhaps it is, in fact, the pure, crisp, clean water of Coniston that is the secret hero behind all these local and national treasures.
Here we offer a round-up of mouthwatering drinking and eating choices when visiting or staying in Coniston.
Coniston Brewing Company and The Black Bull
We start our Coniston culinary tour with a taste of the magical Coniston water from the village's award-winning microbrewery, Coniston Brewing Company, which is housed within the Black Bull Inn.
The Black Bull and its microbrewery sit alongside Church Beck, a fresh stream of mountain water that falls directly down from the mighty Old Man of Coniston, passing over the famous volcanic rocks of the Coniston Fells. It is from this special location that the Supreme Champion Beer of Britain 1998 is made, Bluebird Bitter. Named after the Bluebird boat that Donald Campbell broke the world water speed record in 1967, Bluebird is every bit the iconic ale. The Coniston Brewing Company craft eight ales and distribute as far as Hong Kong and the US, but we'd highly recommend the session Bluebird or Bluebird XB, which are best served after a stomp up Coniston Old Man and served in a tall glass in the beer garden of the white-washed Black Bull pub or under her welcoming wooden-beams.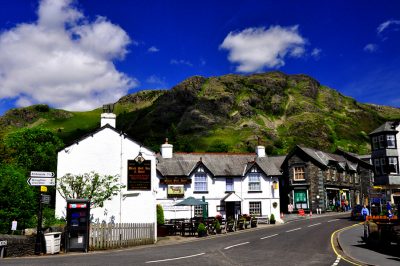 Bluebird Café
Continuing our iconic Coniston culinary journey, we travel from the mountain waters of the Coniston Fells down into the melted ice waters of Coniston Water and find ourselves at the Bluebird Café on Coniston Water.
Coniston Water is a large ribbon lake, the third largest in the Lake District, and the place where Donald Campbell broke five world water speed records. The unspoilt but accessible shoreline, scattered with shallow bays, and intriguing lakeshore islands, makes Coniston Water the perfect setting for three children on a summer holiday adventure, that became the famous children's novel, Swallows and Amazons by Arthur Ransome.
Sitting at the Bluebird Café, right on the shore of Coniston Water, offers visitors a unique spot to breathe in the adventure and sense of wilderness that surrounds this famous lake. The Bluebird café are the best seats in the house to enjoy a hot drink and light lunch and watching Coniston's vibrant boating activity, from the otherworldly Steam Yacht Gondola to Swallow-like sailboats.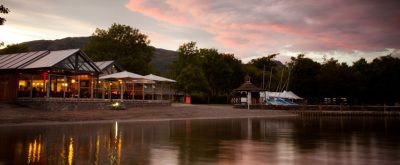 Steam Bistro
 From steam-powered Gondola to steam-powered dining, we take you to Steam Bistro, in the heart of Coniston village.
During the 1920s the whole of Coniston village was powered by local hydroelectricity. This gem of an eatery may be petite in size, however, its relaxed atmosphere and 'best casual dining experience' packs a memorable punch.
Steam is often picking up readers' choice awards and has won a place in Cumbria Life's Top 200 Places to Eat in Cumbria 2019. Dining options are a 2 or 3 course menu, with menus and dishes changing daily depending upon local supplies and the kitchen's inspirations. Having started life offering pop-up catering, today Steam invites its loyal cohort of diners to BYO (bring your own), "eat, drink and be merry".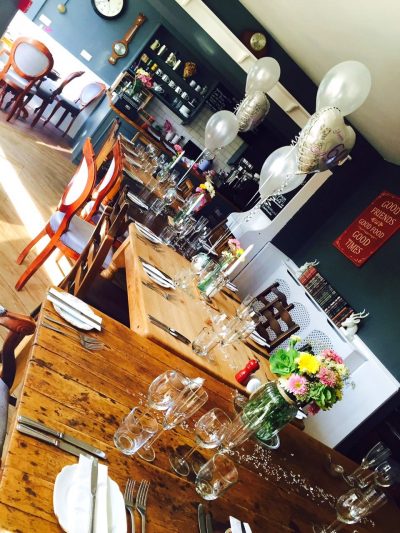 The Terrace Coffee House and Restaurant, Brantwood
 John Ruskin became the most influential art critic in the Victorian era and although from London, chose Brantwood House on the eastern shore of Coniston as his home. Formally called Jumping Jenny, after Ruskin's boat, a café on the former coach house site has been welcoming visitors since 1934.
The only son of a successful wine merchant, Ruskin was exposed from a young age to the tastes of the new, rich, middle-class Victorian society. Perched up high, on one of the best viewing locations of Coniston Water, The Terrace Coffee House and Restaurant, is a beautifully bourgeois dining experience open daily for hot and cold lunches and afternoon tea.
Ruskin offered many workshops from Brantwood, and regularly hosted acclaimed poets and artists as guests. Continuing in this tradition, Brantwood has a busy events calendar, which The Terrace has also adopted offering regular themed evenings and events such as the popular Tapas Night and summer BBQs.
Click here to view our beautiful range of self-catering holiday properties available in Coniston.