Our Top 8 Picnic Spots in the Lakes
Posted 23rd August 2016 by
Imagine rolling out the rug surrounded by enchanting woodland, wonderful views over a peaceful lake and grazing while you gaze.
Well, it is in abundance in the Lake District. So to celebrate International Picnic day on Saturday, June 18, we've put together 8 of our favourite picnic spots, so you know places to visit in the Lake District
So, the next time the sun hints at glimmering through the clouds and you want a bit of peace and quiet or somewhere for the kids to roam – and well just be kids – here's a nudge in the right direction for a successful al fresco day out.
There are lots of Lake District places to visit for a wonderful picnic, but we thought we'd share with you our top 8 places.
Where to visit in the Lake District for a great picnic
FELLFOOT PARK
There's loads of places to roll out the rug at Fell Foot Park – including by the shore of Windermere or by the children's play area – and with breath-taking views down the lake and across to the mountains, you won't half have a bad view either.
If you are thinking what to do in the Lake District for a full day with the kids – this is a great spot. So, pack a ball for a kick-around, don your costume for a dip in the lake or take a stroll along the shore.
It doesn't matter how much you take, the car park is so close, so you do not have to lug your basket far.
LOUGHRIGG TARN
If you fancy a bit of a walk – around 1.7 miles- to get to your eating spot, then this is a gem of picnic spot.
The walk is gentle and pleasant and well worth roaming with the rug for alfresco dining at its best thanks to views across to the Langdale Pikes that seem to stretch forever.
So if you are looking for what to do in the Lake District as well as have a picnic, this is a great place to head to for walking up an appetite for lunch.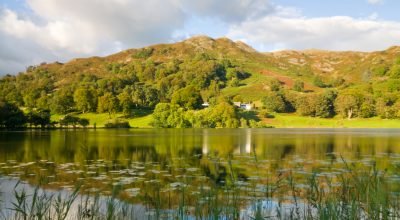 ORREST HEAD CRAG
If you want to feel like you're having a picnic on the top of the world – this is it.
There's a stroll up to be had – approximately just over 1-mile – but once up there, you'll be glad you did as this is one of the places to visit in the Lake District where you'll want to while away your picnic all day long.
It was also the first walk iconic fell walker Alfred Wainwright made in 1930.
From this enchanting spot looking down over Windermere, you can gaze out towards the Langdale Pikes, Scafell Pike, Coniston Old Man and even as far as Morecambe Bay on a clear day.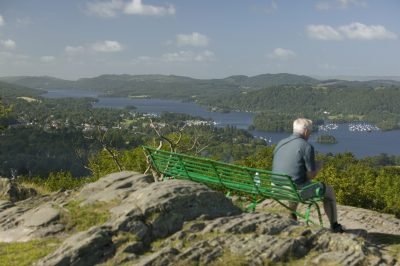 GLENCOYNE BAY
If you like to lunch by a lake, this is a perfect place for you.
This pebbly beach on the shores of Ullswater is ideal for a picnic – even a barbeque – with fabulous views across the lake to Place Fell and down to Barton Fell.
It's a great place for the kids to have a paddle too.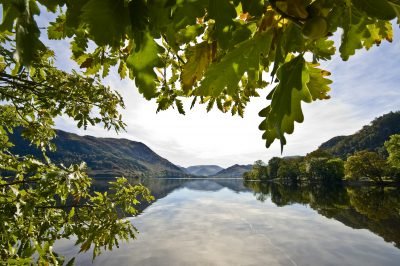 BUTTERMERE
You'll find lots of little beaches dotted along the ¼ mile shoreline at Buttermere – making it a lovely place to eat and relax by the water – and it's a great place for kids to play too.
AIRA FORCE
For one of the must-see Lake District places to visit with your picnic hamper, then stop-off at Aira Force.
There are plenty of place to enjoy a picnic around the Aira Force waterfall – one of the finest in the Lake District. There's lots of woodland too, so if you prefer a sheltered spot, you'll easily find one here.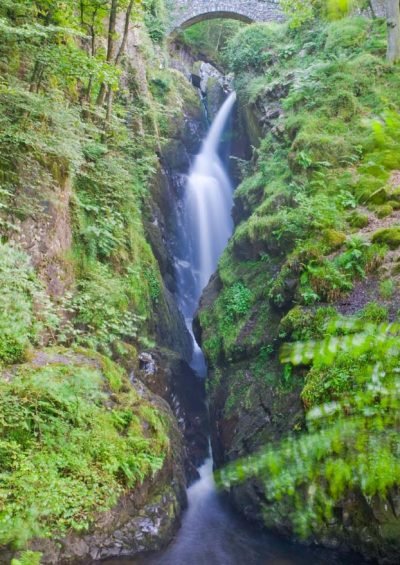 HIGH DAM TARN
High Dam Tarn, at Finsthwaite, is a beauty of a place and there are many places to choose where to lay your rug on the grass along the tarn and the scenery is a delight.
TARN HOWS
Simply an enthralling place for a picnic, where you are guaranteed to gaze at its beauty for sometime before even thinking of eating – just as Beatrix Potter would have after buying it in 1929 (Before selling it onto the National Trust that is).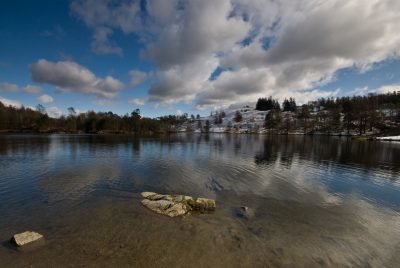 Did you know?
The word "picnic" originally referred to fashionable social entertainment in which each person contributed a share of food.
The first recorded use of the word appears in 1748 in a letter from Lord Chesterfield to his son, referring to a social gathering.
Lakelovers' cottages are on the door step of free, fresh-air fun
We have more than 450 VisitEngland graded 3-5-star luxury holiday cottages right on the doorstep of some of these fabulous picnic spots in the Lake District.
Plus, we have pet-friendly cottages too, so you can share your wonderful days in the Lake District with your dog – who would just love some of these picnic sites – and we don't charge a bean for their stay either.
The beauty of having a cottage so close to these idyllic locations means that there is plenty of free fresh-air fun for your kids too.
The children can have the freedom to roam around, play hide and seek in among the trees, have a paddle in the lake.
And you can sit back, relax and enjoy the beautiful scenery that these beautiful spots in the Lake District have to offer, while listening to your children laughing and having fun.
Our helpful team at Lakelovers are always on hand to help too and we will be more than happy to advise you on which cottages will be best for you and also, if you are not sure what to do, where to visit in the Lake District to make the most of your stay here.
So, why not call us today on 015394-88855?
Or if you want to hear more about the best picnic spots, sign up to our Family Friendly Newsletter: