Lake District's Treasured Author Beatrix Potter's Birthday Celebrations
Posted 27th July 2016 by
The UK celebrates the life of author Beatrix Potter on the 150th anniversary of her birth
Birthday tributes to much-loved Lake District storyteller Beatrix Potter are getting underway this week – 150 years since she was born. So, if you want to know what to do in the Lake District, then absorbing the books and Lakeland culture surrounding Beatrix Potter is a must this summer. Iconic artwork will go under the hammer and a six-minute film will be launched on Thursday, July 28, to commemorate the author's birth.
A first edition of The Tale of Peter Rabbit will be up at the auction by Dreweatts and Bloomsbury Auctions and is one of only 250 copies ever made and is estimated to sell for between £25,000 to £35,000. The collection also includes a rare and charming chromolithograph Christmas card of Two Mice in a Coconut, which is thought, will bring in up to £800. And, an original, autographed watercolour design for the mouse from The Story of Miss Moppet, from around 1906, could bring around £8,000-£12,000. Many of the pieces going under the hammer are from the John Cawood Collection of Beatrix Potter.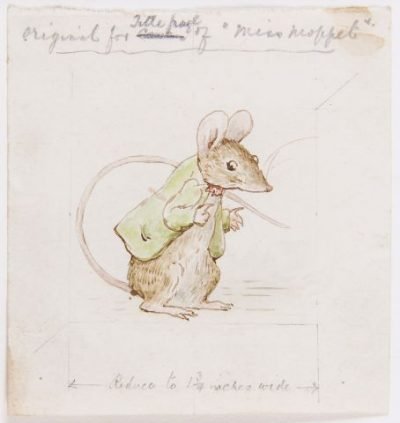 John Cawood, who lives in The Lake District, is a prominent member of the Beatrix Potter Society who developed a passion for Beatrix Potter's tales as a child – like so many do. It was through a childhood friend David Steedman that Mr Cawood developed his passion for collecting. It all started by chance in 1972 after he read a biography of Beatrix Potter that he found fascinating. A few days after telling his friend, he telephoned to say that he had a fine copy of Mrs Tiggy Winkle. And, from that moment Mr Cawood was hooked and for the next 40 years set about trying to achieve 'a complete set of 1st editions of her 'little books'. He always strived to buy the best condition of any title and the auctioneers say that this sale presents an excellent opportunity for new collectors to acquire some of the best examples of her work.
Also included in the auction is a written letter from Beatrix Heelis to Mrs [Celia N./Nurse] Edwards dated 23rd February 1924, Sawrey, Ambleside, informing Nurse Edwards that "the committee has confirmed your appointment" [as a Queen's Nurse for the Hawkshead and District Nursing Association] and noting a desired engagement date. The author notes luggage arrangements before commenting on the departing nurse ("I should say she always had a quick tongue, but there could not be a kinder hearted woman, I have always liked and respected her, and a splendid surgical nurse. She gets very irritable when feeling ill and tired. I would not write all this, only you are sure to hear plenty of grumbles…").
The Tale of Peter Rabbit started life as a picture letter and was sent by Miss Potter to her former governess' eldest son Noël in 1893, but was to become one of the pre-eminent children's books of all time, and firmly established Beatrix Potter as a popular author and illustrator. She went on to writing and illustrating children's books full-time and wrote 30 books. But, it wasn't just her beloved books which she became well-known for. She left a legacy in the Lake District too.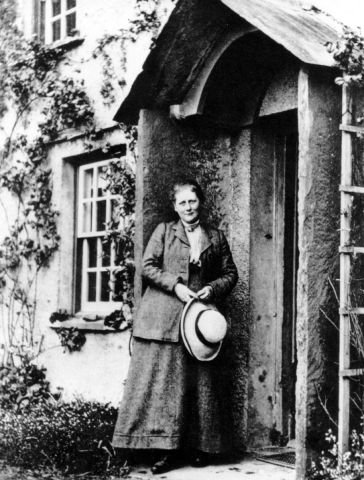 In 1905, with the proceeds from the books, Miss Potter bought Hill Top Farm in Near Sawrey – now a very popular visitor attraction. But over the coming decades, she bought other farms in an effort to preserve the unique country landscape of the Lake District. And, when she died age 77, she left much of her property and land to the National Trust and as such, it is thanks to her that much of the land in the now Lake District National Park has been preserved. Her remarkable life will be celebrated in a special six-minute film, which takes an imaginary look at how the Peter Rabbit and Mrs Tiggy-Winkle author might have celebrated her birthday in days gone by, complete with afternoon tea, a sail on Windermere and a chauffeur-drive car ride.
The YouTube film, the brain-child of Bowness-on-Windermere hotelier Alison Magee-Barker, will go live on Thursday, July 28.  https://www.youtube.com/watch?v=9lmyzTCAFkQ&feature=youtu.be
The Lake District is a great place to visit anytime. But, if you love Beatrix Potter, then this summer is the perfect time.
A summer of celebration: Lake District places to visit
As well as places to visit in the Lake District such as the National Trust's Hill Top, here are just a few of the events being held to commemorate the 150th anniversary of Beatrix Potter.
The World of Beatrix Potter Attraction
The World of Beatrix Potter Attraction is also celebrating a special anniversary in 2016, 25 years of business since first opening its doors to visitors on 28 July 1991. It is one of the very popular Lake District places to visit. To mark this special year, the Attraction is putting on lots of special events throughout the year and also producing two special stage shows: Where is Peter Rabbit? which celebrates the magical stories and Meeting Bea, exploring her lesser known later life as famer and countrywoman.
The Royal Mint
The Royal Mint has produced a series of special edition 50p coins and following on from Peter Rabbit and Mrs Tiggy-Winkle is the Squirrel Nutkin 2016 UK 50p, the fifth coin in the series, which will be available from late August 2016.
Beatrix Potter Gallery, Hawkshead
Discover an exhibition of Beatrix's original watercolours and illustrations which explore the inspiration she found in the natural world at this Realism and Romance: Beatrix Potter, a life inspired by nature. From an early age, Beatrix made intricate studies of wild animals, the cycle of the seasons and the woodland environments of her beloved mushrooms. You can visit the gallery until October 30 from 11am until 4.30pm.
Wordsworth House and Garden, Cockermouth
Beatrix Potter had a lifelong love affair with the Lake District and the wild beauty of the northern lakes, in particular, had a profound influence on her work. Discover how Squirrel Nutkin, Benjamin Bunny and Mrs Tiggy-Winkle all owe their existence to this inspiring landscape – and how her legacy ensured it remains a place of creativity and respite today with the Beatrix Potter and a Love of the Northern Lakes until October 30, daily except Friday. So, if you are wondering what to do in the Lake District during your stay, a visit to these places are definitely worth a visit to commemorate the life of a literary legend.