Lakelover Ian creates unique 3D model of Scafell Pike
Posted 20th September 2016 by
One of our employee's love of the Lake District fells has led to him creating a wonderful 3D souvenir for tourists
Lakelovers Owner Relationship manager Ian Robinson, who has spent countless days walking the Cumbrian peaks, has made 3D models of Scafell Pike and surrounding fells – so walkers have something to remind them of their adventure up England's highest peak.
The mountain in the Lake District National Park is an exhilarating and breathtaking trek 3,209 ft above sea level and is a favourite destination for walking holidays in the Lake District.
"There are lots of maps of the Lake District and there are lots of 3D wall maps on the market, but no small scale 3D model of the highest peak in England," says Ian.
"I'd seen small models of the Alps from the late 19th Century which were brass, so, I thought why not create one for the Lake District.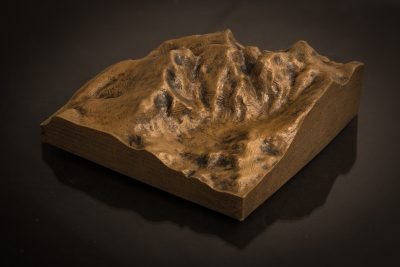 Ian Robinson's 3D model of Scafell
"So many people do the Three Peaks Challenge these days and this is something that they can buy to commemorate climbing the highest peak in England."
Ian worked with Lancaster engineering students and a Lancaster sculptor, Alan Ward, so make sure that the model was accurate and detailed.
"What you get with the 3D model is a real sense of the landscape. You can run your fingers over the route that you walked.
"You might have gone up one side, but with looking at the model, you might decide that next time you will go up via one of the other routes. So it gives you a real sense of exploration and geography of England's highest peak."
Ian, who has worked in the tourist information, youth hostels and in the holiday cottage industry in the Lake District for nearly 20 years, describes Scafell Pike as the most "dramatic" landscape in the Lakes.
He's completed the challenging hike up Scafell Pike countless times and has enjoyed each and every one.
But, his favourite Lake District walk is Gowbarrow in Ullswater.
"If I was told I only had one walk left, I would choose Gowbarrow. I would start off at lake level and take the gradual ascent, where on the way you get to see a good variety of scenery – including the lake and Aira Force.

"This is my favourite walk because you get to appreciate the majesty of the landscape but without having to tire yourself. You still have energy for the pub afterwards!

"It's a walk that you can take your time over and really appreciate the beautiful views."
Ian's model is available from Ambleside Tourist Information shop ( 015394-32582) and North and South Gallery (015394-44944) and is priced at £19.99
Mail order is available by calling the outlets.
Destination Lake District – the popular choice for walking holidays
And, if you fancy challenging yourself to a walk up Scafell, why not stay in one of Lakelovers' holiday cottages – where you'll be right on the doorstep of this majestic mountain.
Our homes are just perfect for Lake District walking holidays – why?
What better than having a cottage set amongst the fells, with walks from the doorstep and the promise of your return to the comforts and luxuries of one of our 3-to-5-star graded cottages.
Whether just the two of you, the family or with the dog, you will find the perfect cottage for your stay right here www.lakelovers.co.uk