Places to Eat in Keswick
Posted 21st September 2018 by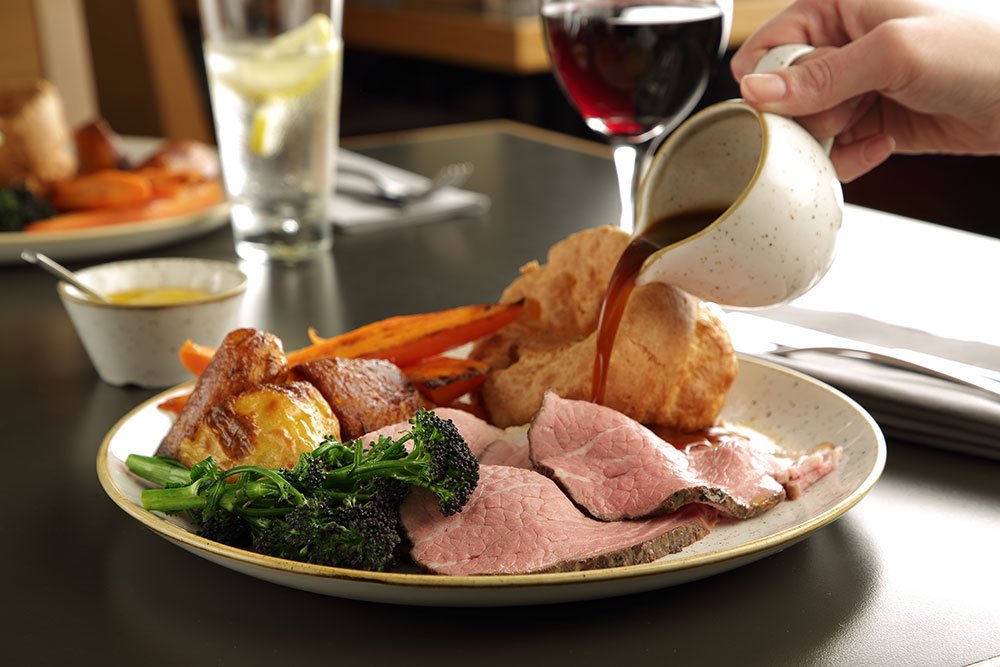 Fill your boots after a brisk fell walk
When on holiday in the Lake District, naturally, more time is spent outdoors filling our lungs with fresh air. And with this comes an increased appetite, especially during cooler months like an autumn break in the Lakes or a frosty winter Lakeland escape.
Even if you've not yet had chance to work up an appetite, just amble along the pedestrianised high street of Keswick between 8am and 10am and the tempting smells of fresh coffee and eggs benedict will soon kick-start hunger pangs.
And let's be honest, eating out is a huge part of your Keswick cottage holiday itinerary. Whether you're booking a couples walking holiday or planning a celebratory get-together, long lunches and sociable dinners are a must.
So, in this week's blog post we're serving up places to eat out in Keswick, for different occasions.
Lazy Brunch
Hop on an anticlockwise cruise with Keswick Launch to Hawes End jetty (10 minutes) and then enjoy a ¾ mile woodland walk to the Lingholme Estate (the jetty is not currently operating).
We'd recommend a leisurely brunch in the Kitchen and Walled Garden at the Lingholm Estate on the western shore of Derwentwater, which offers views on to the beautifully restored McGregor's walled garden and out to Skiddaw. A visit to Alpacaly Ever After, on the estate, is a must too.
Low-key Lunch
Are you wanting to treat your holiday party to lunch out but without the fuss of a formal meal? If the weather is dry, you'll find many visitors to Keswick heading to one of two popular fish and chip shops and then on to one of Keswick's super public parks taking their steaming, paper-wrapped, lunch with them.
There's The Old Keswickian on Market Square, open 11am-7pm, and on the other side of town The Kingfisher open 11am-8:30pm. For public parks, you have a choice of Hope and Crow Park, which take you down to the shore of Derwentwater. Fitz Park has a river-side setting and is particularly popular with families with young children.
Up-market Nosh
Following a relaxing day trip, it's time to head back to your holiday cottage, crack open a bottle of your favourite grape and hop in the shower, taking full advantage of your designer bathroom. Put on your glad-rags for an evening of high-class dining and entertainment. For such an event, perhaps celebrating a special occasion, we'd recommend planning your night around something you fancy watching at the theatre. Visitors to Keswick are lucky to have Theatre by the Lake within walking distance of the town centre. Opened for almost two decades now, it is not only one of the best theatre's in the Lake District, but in the UK. And the best place for pre-theatre dining is Morrels, on Lake Road.
For the Foodie
The restaurant at Cottage in the Wood is just that. It is a hidden away in Whinlatter Forest. It is only a x mile taxi drive away and following heady success it is best to book in advance. But cottage is it not. Where the dining decor is low-key and un-fussy, the service is excellent and the menu is show-stopping. Customers are served up local produce, such as Herdwick Hogget, along with a myriad of delectable treats such as salt baked celeriac, onion seed wafer, rye crumbs and tomato gel.
Walkers Re-Fuel
Catbells is the most popular family-friendly walk in the Lake District, and a good hill-bag for walking abilites. It is a must during a holiday in Keswick and planning a post-walk pint (or two) at the Swinside Inn is a must too. Here you'll find several bars, with dog friendly and kids welcome choices as well as a beer garden for drinking in the views.
Have a read of our Things to do in Keswick guide for more Keswick restaurant and pubs advice.
Lakelovers opened a Keswick office in 2016 and we now have a portfolio of over 50 holiday cottages in Keswick and the surrounding area of Derwentwater and Ullswater. Have a browse or get in touch on 015394 88855 and we'd love to help you book your Lake District cottage holiday.