Pooch Pawfect Summer Holiday
Posted 24th January 2018 by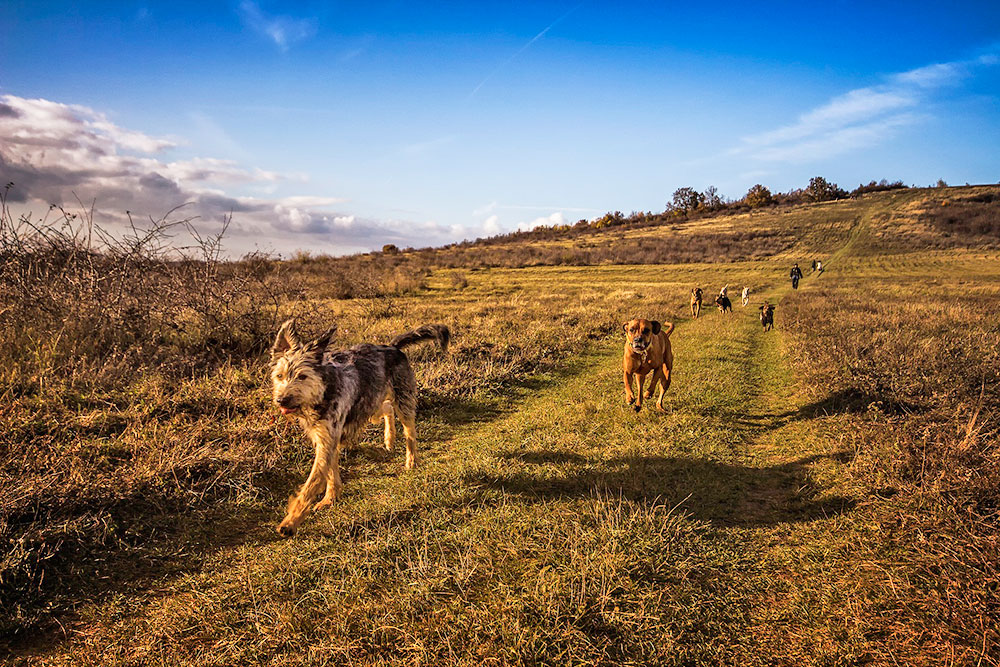 Dog-Friendly Summer Walks
Your pawfect pooch companions know that the Lake District is the best place to head to for a wooftastic summer holiday. No whimpering's and whines here. Check out what a dog-friendly summer holiday in the Lake District looks like.
The Dog and Gun, Catbells
Catbells is known as the 'family fell' of the Lake District as it is a great one for hill-bagging novices. The short, sharp ascent feels like a good climb, yet at less than 500 meters it is actually relatively modest. Ears flapping in the wind, huge open skies and endless views. You get the full experience of a Lake District fell summit, without too much exertion. It is a comparatively easy climb that takes about 2-3 hours in the summer months. A hike up Catbells also means you are less than 5 miles from Keswick, voted the most dog friendly town in the UK!
Here you'll find most places open their doors to you an your four-legged walking companion. There are often water bowls outside doors and treats waiting inside. Beside eating, there are lots of dog-focused things going on in Keswick too. Including the excellent Dodgy Paws Pet Shop, 'Keswick Scruffs dog show' held at Fitz Park in June, and 28 acres of idyllic dog walkies. Treat your furry holiday companion to a week of going car-free. Enjoy leaping aboard the Keswick Launch on Derwent Water, where well-behaved dogs sail for free. Head to the aptly named Dog and Gun in the centre of Keswick. They even offer a dog menu and each pet is served their own bowl of water. For owners, their Goulash is one not to miss!
Sticky doggy pudding at the Dog and Gun anyone?
Watergate Inn, School Knott
School Knott is one of Wainwright's Outlying Fells. Only a couple of miles from Windermere it is very easily accessed and centrally located. This is a great dog friendly walk. Compared to some of the popular Lakeland peaks, the weather can be tamer. But it still has a remote-feel about it so less sociable canine pals will enjoy being away from the crowds. There are several tarns on this walk for added interest and you can get down to School Knott Tarn to enjoy a mid-walk refreshment. Owners and four-legged walking companions alike will enjoy a welcoming refreshment at the award-winning Watergate Inn pub. Based in the village of Ings, it is where this circular walk starts and ends.
Watergate Inn in the delightful Lakeland village of Ings, just 2 miles outside Windermere in the South Lakes, is not only dog-friendly but has a superb range of ales, form their onsite microbrewery.
Try and stop me enjoying a dip in School Knott Tarn
The Drunken Duck, Tarn Hows
There's a National Trust car park at Tarn Hows, and from here you and your cohort of four-legged holidaymakers can follow the easy trail around this picturesque corner of the Lakes.
Over the summer period this is a popular Lake District walk, and so it is best for sociable and well-behaved pups who welcome a friendly scratch behind the ear from passing walkers.
Pooch won't need to be tied up outside whilst owners enjoy a quick lunch following a walk around Tarn Hows. Choose from a selection of dog friendly pubs nearby so you can take your time over a relaxing lunch. In Outgate, only a couple of miles away, there's the upmarket but welcoming Drunken Duck Inn. There you can take your pick from their very own ales, named after pets. At the head of the dramatic Langdale valley The Sticklebarn is a more rustic affair. But it is an extremely dog friendly pub that will be firm fixture on a dog friendly holiday in the Lakes. 6 miles away, in the pretty hamlet of Elterwater, The Britannia Inn is a very dog welcoming pub. It is also a great spot for a picnic by the river and for soaking up the summer rays in their tranquil beer garden.
The Eagle's Head, Grizedale Forest
In the heart of Satterthwaite village, a stone's throw from Grizedale Forest, this dog friendly pub is a great place for lunch. Not to mention a good pint after a race around Grizedale Forest! At 24.47 km² of peaceful woodland, along with the peak of Carron Crag and 90 sculptures dotted throughout, makes for a great dog friendly day out in the Lake District. Drop in to The Eagle's Head and say hi to Hector the pub dog and enjoy a superb pie and pint.
Lingholm Kitchen, Derwent Water
There's plenty of parking and lots of outdoor eating space at the Lingholm Estate cafe. Although newly refurbished, the Lingholm Kitchen is very welcoming to visitors with dogs and the walk straight from the cafe along Derwent Water shore is a treat for all.
We're also pleased to let you know that last weekend we enjoyed this very walk and raised a tail-wagging £685 for Fix The Fells on a birthday walk for famous Lakeland pooches Max and Paddy. Thanks for the photo's chaps!
Want to learn more? Subscribe Below: