Top 5 Places to Visit in Ullswater, Lake District
Posted 6th October 2015 by
There are secrets, surprises and mysteries that lie all along the tranquil waters of 'lake' Ullswater. Discovering these secrets is the ultimate reason for visiting Ullswater.
And we can't wait to share them with you.
The 'most beautiful' lake
Ullswater is situated amongst some of the finest Lake District scenery. It often inspired the famous work of English poet, William Wordsworth. Ullswater is often referred to as the 'most beautiful' of Lakeland 'lakes'.
Ullswater is a beautiful long 'ribbon' lake lying in an unusual 'stretched z shape'. It has three stretches, meandering in and out of the surrounding hills. It is the second largest water in the Lake District, at 7.5 miles long but only ¾ mile wide.
It is the happiest combination of beauty and grandeur which any of the lakes affords
William Wordsworth on Ullswater.
This area of the Lakes is under populated and developed by comparison to other parts of the Lake District, and so it feels particularly tranquil, secluded and relaxing.  Yet you are not let down with spectacular scenery of towering peaks protecting the tranquil waters, and plenty of things to do to keep you returning time and again.  Let's take a look at our Top 5. . .
1.) Ullswater 'Steamers'
Whether you're new to Ullswater or returning to this spectacular area, you can't miss a cruise with Ullswater 'Steamers' where you get completely different views and experience of this unique landscape.
"All aboard" M.Y Lady of the Lake!  Believed to be the oldest working passenger vessels in the world and working on lake Ullswater for some 150 years, she has some incredible ancient tales of myth and legends to share!
Jump aboard and let the on-board commentary guide you through amazing tales and point out the unique wildlife of this area as well as celebrated properties!
 Money-saving Tips
Perfect for kids and adults alike, you'll likely want to take advantage of the 50% discount voucher for sister attraction, Ravenglass & Eskdale Railway, which you get when choosing the 'Round the Lake Pass', although excludes newly opened Aira Force.  This pass allows you to 'Pay Once and Sail all Day', hopping on and off as you explore the area, thanks Ullswater 'Steamers' for this top tip!
'Steamers' connect best walks, cycle routes and sights in the Lake District
A trip with Ullswater 'Streamers' is an experience itself. But they are particularly well designed for helping you get the most out of your holiday in the area. We'd recommend planning some walks and sight-seeing! Open all year around, with cruises varying from 20-120 minutes, connecting some of the best walks, cycle routes and sights in the Lake District. This includes the main landing stage, Glenridding with Howtown and Pooley Bridge Piers and between Glenridding and the most recent addition, National Trust Aira Force Pier.
For planning your visit to the Ullswater we'd recommend downloading Ullswater 'Steamers' app. It includes a 'Map of all Locations' and 'Commentary' for the various tours, history, notable landscape features, wildlife and places to visit. You can even send an email Postcard from this app!".
Follow this link to download for FREE for Android and Apple.
Or, you can view the map and further information here in this great brochure.
Also, familes look out for the beautifully funny 'Tale Trails' kids story walk series, of which there are a few in the Ullswater region.
Created by Anja Phoenix and based on myths around the Lake District, some of the fabulous family-friendly walks in the Ullswater region to look out for include 'Hetti the Carvetii of Pooley Bridge' and 'The Nozomi Bird of Aira Force'.
And of course one of our favourites –  'Eric the Curious of Hallin Fell', the lovable herdwick sheep who gets into all sorts of mischief  in his very first adventure up this great first mountain for little legs –  this  1-2 hour family walks starts at Howtown pier and the story and fun map keeps little legs going along the walk – we highly recommend!
Private Ullswater charter
The Lady Dorothy, is the smallest vessel with a capacity of 63. It is great for smaller private charters, though there are lots of options for different size parties!
We love the intimacy and special occasion of treating guests, family and friends to an extra special Christmas celebration with a private charter including mulled wine and minced pies! Whether it is a wedding, engagement, birthday or just a special gathering, for a truly unique event we love the personal touch and glamour of a private cruise.
Dancing and being merry with close family and friends, enjoying a live band and champagne. All set on the waters of one of the most beautiful lakes in the world, what could be better! For 'ladies that lunch', or a perfect romantic gesture, an exclusive champagne lunch stop in a host of venues along the lakeshore is another very special treat also available from Ullswater 'Steamers'.
And we recommend holidaymakers don't miss out on the special events hosted by Ullswater 'Steamers' across the seasons, to make your holiday that bit more special. Some that we particularly love include the Summer evening Cumbrian 'Fish Supper'. This is a two hour summer evening cruise with fish supper and live music entertainment.
For photographers and wildlife lovers, the annual Autumn 'Red Deer Rut' is a thrilling and unique sight. The best way to see it is to take a steamer to Howtown and don your boots for the five minute walk, to the secluded site where staff from the RSPB will be on hand to talk about the famous 'rutting' or antler fighting. The rutting is the means by which the male deer seek to prove their dominance and right to a mate! A must-see spectacle.
 2.) Howtown to Glenridding walk
There are many walks around Ullswater lakeshore, but we favour the seven mile adventure from Howtown to Glenridding, along the southern shoreline, largely as it can only be explored by boat or on foot, adding to its mystic and quiet tranquillity.
Howtown sits on the southern 'kink' of Ullswater, which is a geological fault created by a volcanic activity some 450 years ago, and provides a perfect vantage point for taking in the wonderful vista that is the Ullswater region. About a 1  1/2 hour detour up the Hallin Fell will reward you with views to the dramatic slopes of Hellvellyn on the southern shore.
Hallin Fell aside, here's all you need to know about enjoying the Howtown to Glenridding walk along Ullswater.
Transport: Start the walk with an Ullswater 'Steamer' cruise to Howtown Pier. View the timetable here.   If you're travelling with a car, a nice loop is to park next to the pier at Glenridding and take a steamer to Howtown and walk back. Or, if you fancy doing the whole lake, cruise from the northern pier at Pooley Bridge to Howtown and walk south to Glenridding.
Map:  Whilst we recommend using an OS map, here's the Lake District National Park's super-handy Ullswater map, featuring the Howtown to Glenridding family walk and our detailed guide to the walk which you can print off here.
Refreshments: Howtown Hotel offers light lunches to non-residents and is only a few minutes from the pier. There's also plenty of picnic spots along the walk.
The Ratchers Bar, in The Glenridding Hotel serves pub grub, has a great beer garden and allows dogs, only open from 3pm over Winter months but midday during the summer. Also attached to this centrally located hotel is Kilners Coffee Shop which is open from 10am serving hot drinks and cakes and has Wifi if you're keen to catch up on emails!
Checklist for walkers: Consider footwear, clothing and other kit, water, snack, mobile phone, money and first aid equipment, and don't forget to check the weather before setting out!  More tips here.
So, grab your OS map, go through your checklist and print the walk off here.
3.) Wordsworth's 'daffodils', Glencoyne Bay
Loveliest spot that man has found
William Wordsworth on Ullswater.
Literary master William Wordsworth strolled along Ullswater one spring day in 1802. He was so inspired by the daffodils he wrote "I Wandered Lonely as a Cloud". It has become one of the most famous poems in English literature.
The much-loved poem is said to have been inspired by a diary entry written by his sister, Dorothy. It followed a walk back to the home she shared with Mary and William Wordsworth at Dove Cottage in Grasmere, after staying with friends at Pooley Bridge.
So, in April make sure you visit Glencoyne Bay, a small pebbly beach and grassy woodland. It is close to the village of Glenridding, as Wordsworth and his sister did, and be greeted by;
A host, of golden daffodils; Beside the lake, beneath the trees, Fluttering and dancing in the breeze
Glencoyne Bay has become known as 'Wordsworth Point'. It is a perfect summer spot for a picnic, BBQ or paddle (though do not go too far out as it gets deep very suddenly).
It's National Trust owned, with a pay and display car park at the bay.
As well as the daffodils, look for the first wood cranesbill, or purple woodland geranium. And later, from June to September, pink purslane flowers, and even bracket fungus growing on tree trunks. It's also worth keeping a special eye out for the carnivorous round-leaved sundew from June to August!
And, as described in 'I Wandered Lonely as a Cloud', the charm of Ullswater is different throughout the seasons. Where on a spring day the water can be choppy with 'waves' that 'dance', and the beauty of the surrounding woods can 'out-do' the lake itself. Whereas, the calm waters when visited early on a long summer day mirror the stunning surrounding landscape, distorting it slightly and giving Ullswater a somewhat other-worldly feel – just magical! And in Winter, the falls rushing into Ullswater take on a force of their own alluding to the glacial powers that first created Ullswater some 12 thousand years ago… Glencoyne Bay is simply a must visit throughout the seasons!
Glencoyne Bay to Aira Force walk
And why not try the recently opened off-road walk from Glencoyne Bay to Aira Force? It was also one of Wordsworth's favourite places to visit, inspiring yet further of his works. The 2km walk takes in Glencoyne Deer Park and has wonderful views of Ullswater. You can also walk off-road all the way from Glenridding to link up with the path from Glencoyne Car Park.
As Wordsworth's poems have brought the beauty of the Lake District to many, you can create your own memories which will 'fill your heart with pleasure' and you'll forever want to 'dance with the 'golden daffodils' of Ullswater.
4.) Aira Force
Near the village of Watermillock off  the western side of Ullswater, is one of the most photogenic sites in the Lake District, especially if you're lucky enough to be there to see the famous Aira Rainbow!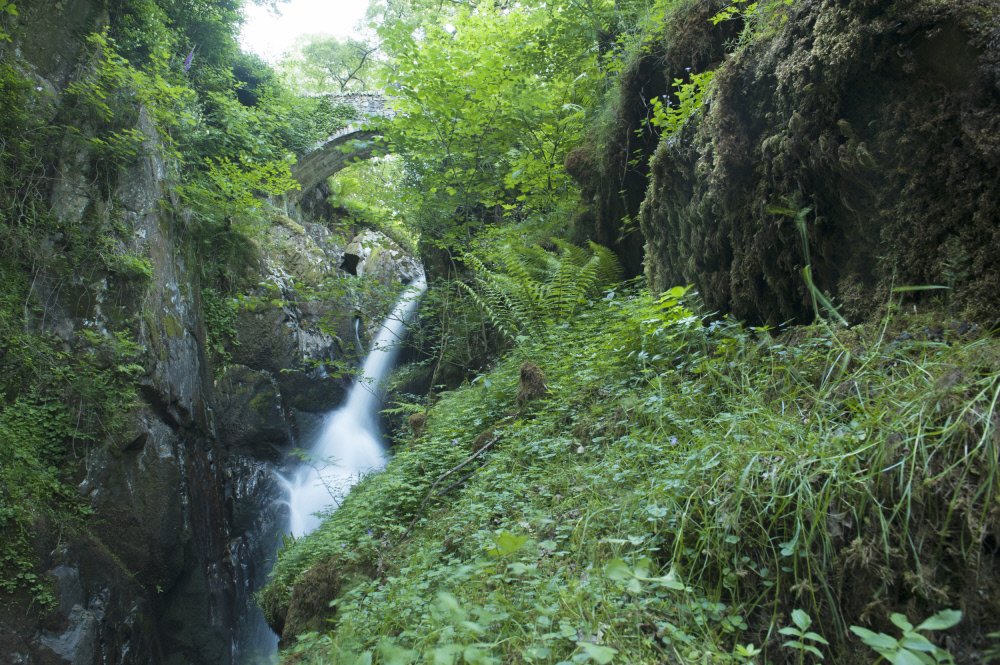 Aira Force, an impressive 65ft waterfall thunders down from a stone footbridge, and is surrounded by many off-road footpaths. It is a perfect day out and one certainly not to be missed if visiting the Ullswater area!
The waterfall 'feature' is part of of a designed 'pleasure garden' estate which surrounds the hunting lodge Lyulph's Tower, which sits on the lake shore, all owned and landscaped by the Howard family, of Greystock Castle. As well as the dramatic waterfalls, where a bridge was built at the top and bottom to fully enjoy the spectacle, the Victorian landscaped 'pleasure park' includes arboretum, and a series of paths, walks and footbridges to enjoy the rocky landscape.
Check out these handy tips National Trust has given us for getting the most out of a visit to the spectacular Aira Force:
"Try the Glenridding Loop. It's the ultimate day out; start with an Ullswater Steamers cruise from Glenridding to Aira Pier, followed by a walk up to the waterfall and maybe a bit of lunch at the café, before strolling back to Glenridding through Glencoyne Deer Park and along the lakeshore."
"Visit early in the morning for the best chance of spotting one of our red squirrels."
"Wetter is actually better at Aira Force, visit during or after a spate of rain to see the falls in full force and at their best."
The falls are only ½ a mile from the car park, which has a cafe, and so perfect for walkers of all abilities and little legs!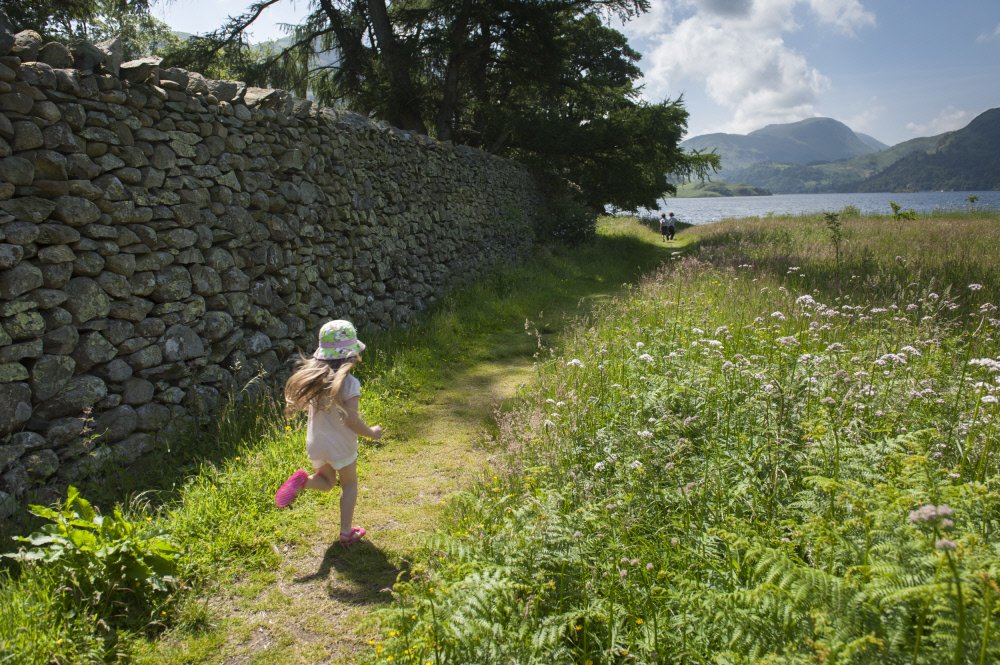 The paths and steps are well surfaced, but do have several steep climbs and so take care on wet days. However, for keen photographers a wet day can provide the perfect photo opportunity at Aira Force. With a full High Force river leaping down the rocky fell and at around midday if the rain clears you may be lucky enough to get the famous Aira rainbow!
As a final thought, look out for the 'wish tree' along the pathways at Aira Force. This is where you can hammer coins into the fallen tree trunk and leave your wish in this truly magical part of the Lake District!
5.)  Afternoon tea and luxury spa treatment
If visiting Ullswater, it is well worth planning a treatment with Icon Beauty at either the Penrith visitor attraction, Rheged or country house Sharrow Bay for the only bespoke salon brand in Cumbria to offer treatments from award winning ranges REN, Dr Hauschka and Alpha H – our idea of heaven after a stomp on the fells or mooch about Pooley Bridge shops!
At Rheged, near Penrith, you can complement a relaxing treatment with lunch at the well-known Peter Sidwell @Rheghead Cafe. There you can enjoy signature dishes like wild boar burger with Lakeland Gingerbread, six hour beef ragu, smoked haddock hash topped with a poached free range egg or a whisky sour bakewell with local ice-cream!
That aside, with a trip to Rheged, even if you just opt for tea and a cake you won't be disappointed. For coffee lovers you'll appreciate that after selecting your coffee bean your cafetiere comes with a timer for optimum brewing time! Then enjoy some retail therapy under the relaxed cover of this unique grass-covered building, the largest in Europe. This is where you can shop unique as well as designer brands including White Stuff, Tutti, Seasalt, Camper, Great Plains, as well as quality outdoor clothing brands too.
There's lots for kids too, with a fabulous outdoor 'castle' for when it's not raining, indoor soft play and pottery painting! The huge 3D box office cinema screens kids films on Saturday mornings. It is the place to go and see cult outdoor documentaries and screenings and old time favourites like "It's a Wonderful Life".
Famed for being the very first 'country house hotel', 'afternoon tea and a pampering treatment' at Sharrow Bay is a must when visiting Ullswater. You can take in the epitome of English country living with tea on the Terrace. Or in the comfort of one of the Drawing Rooms. The gentrified ceremony is available from 4pm and is very popular, so worth booking before arriving.
You can choose a traditional or a rather more special, champagne version. The selection of sweet and savoury delights set on traditional cake stands will whisk you to a bygone era, leaving you feel super treated! Are you on a romantic break, or a girly trip with friends? Either way, before settling down to take in the stunning lake views, refresh your nails, rejuvenate with a facial or indulge in an all day pampering treatment by booking in with Icon at Sharrow Bay, who have great offers when booking afternoon tea and a treatment together. They also offer 'couples massages' as well as small group treatments for that special occasion! What a way to while away a day on Ullswater.
What are your best places to visit in Ullswater?
Want to hear more about Ullswater? Subscribe to our newsletter below: