Put Chocolate on your Holiday Itinerary
Posted 4th July 2018 by
Chocoholics Rejoice, it's World Chocolate Day!
Strange things are happening. Yes, Britain's heatwave is not only a London phenomena. It has hit the Lake District too.
This is prime chocolate melting weather and makes us wonder if it is the best time to host World Chocolate Day, this Saturday 7th July 2018?
But, if consuming delicious chocolate is a mandatory part of celebrating the arrival of chocolate into Euope, then who are we to ignore this International celebration. Plus, we get to take a look at some of our chocolate-box cottages too.
Hand's up for chocolate
Creating last memories and holiday traditions are important to us here at Lakelovers and chocolate is part of that.
Throughout key holiday moments in the year, chocolate has a role to play. There's the Christmas advent calendar, Easter eggs and Valentine's chocolates. And certain chocolate flavours can become family traditions. For some, chocolate orange is all about Christmas, raisin chocolate becomes a walkers boost and salted chocolate is a post-dinner treat.
So, to celebrate World Chocolate Day, we're looking at 'chocolate moments' that our chocoholics guests can enjoy throughout the day whilst on holiday in the Lake District. Chocolate moments that will evoke memories or that will become part of family traditions for years to come.
1. Award-winning Cocoa Bean experience
2. Chocolate Choux
Chocolate at breakfast feels like such an indulgence and therefore perfect as a holiday tradition. Plus, enjoyed from your cottage garden, it can still be enjoyed nice and cold as you are close to the fridge!
3. "Don't Waste Calories on Cheap Chocolate"
Even in this heatwave, there's time for hot chocolate. Pick up a flask from Choccobar in Bowness where you can buy takeaway luxury hot chocolate. Then head down the hill to the shore of Lake Windermere and enjoy a lake swim followed by a warm up in the sunshine with a thick, luxury, chocolate drink. Plus, swimming in cold water burns more calories than the swimming pool, giving ample reason to indulge in some luxurious chocolaty delights.
Did you know that drinking chocolate was the first known use of chocolate beans?
 "There's no point wasting calories on cheap chocolate, always go for the richest and the smoothest" Choccobar
4. "Death by Chocolate"
'Death by Chocolate' is the most heavenly chocolate ice cream from local ice cream producer English Lakes Ice Cream. It is made from red cocoa powder and beautifully swirled with a rich dark chocolate sauce. This is artisan chocolate at its very best.
When staying in the Lake District, you are never far from a dairy herd and that means that you are also never far from top quality home made ice cream.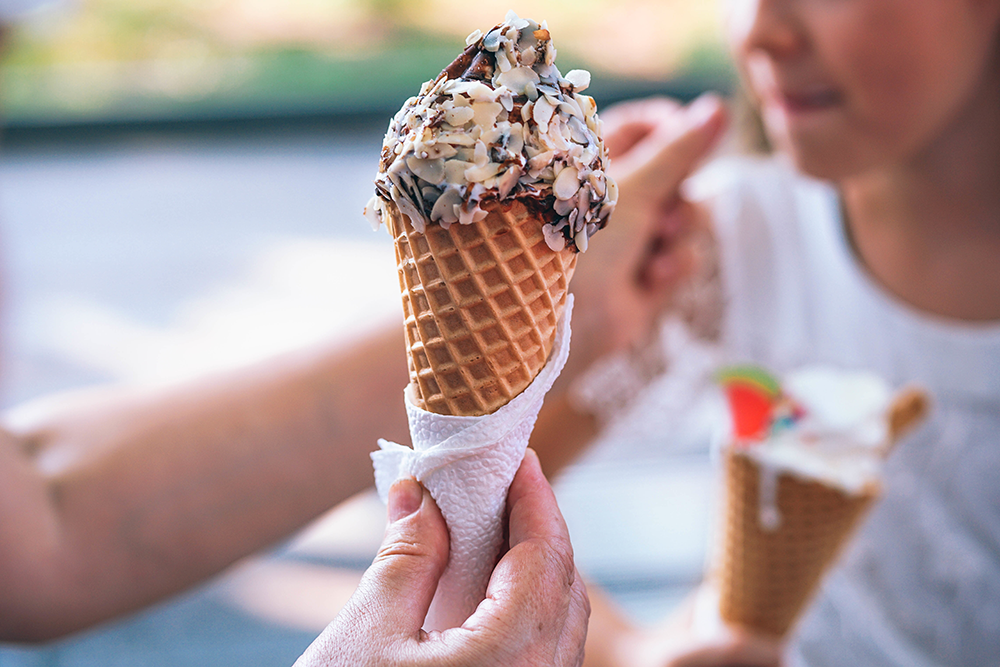 5. The Gift of a Chocolate Smile
The gift of a box of chocolates always brings a smile, here at Lakelovers.
If you're planning a special occasion with us in a Lake District cottage, why not spoil a loved one by pre-ordering a treat ready for arrival in your cottage. Here are some ideas:
At The Groom's Cottage, Keswick, luxury celebratory cakes can be pre-ordered, such as their 'Double Chocolate Ferrero Rocher' cake as well as handmade chocolates.
As a gift to Lakelovers' customers from the delightful gift shop Poppi Red, in Hawkshead, if you spend £20 in their shop you can pop into their cafe for a free slice of chocolate cake. Read more with Lakelovers Recommends. 
And to put a real chocolate smile on your kid's faces, head into the award-winning Cocoabean Company, also in Hawkshead. Their kiddie Chocolate Workshops, which finish by painting chocolate mustaches and smiles on visitors faces, are a holiday memory kids are sure not to forget.
"Life is like a Box of Chocolates"
'Chocolate-box' is a description synonymous with the Lake District and whisks us away to idyllic white-washed cottages and traditional cottage gardens, set in dreamy rural villages where newspapers are still collected from the village shop and news travels faster on the local pub grapevine than the Internet.
In the Lake District, life really is "like a box of chocolates" and with Lakelovers unique, hand-picked holiday cottages, "you never know what you're going to get".
Let's take a look at the Lake District's top chocolate-box villages:  Troutbeck, Cartmel, Crosthwaite, Hawkshead, Grasmere.
Grasmere
View our Grasmere Cottages here.
Troutbeck
View all of our Troutbeck Cottages here.
Crosthwaite
View all of our Crosthwaite Cottages here
Cartmel
View all of our Cartmel Cottages  here.
Hawkshead
View all of our Hawkshead Cottages here.
Doggy Choc Drop Treats 
Theobromine that is found in chocolate is poisonous to dogs. In small quantities it causes an upset stomach but is very poisonous if pooch was to get his paws on a box of chocs.
That said, a chocolate-box holiday is simply perfect for a dog-friendly escape. Hawkshead, for example, is completely car-free and most, such as Troutbeck, are conservation areas and so do not have car parks, encouraging visitors to use local transport or visit on foot. This makes for a much more relaxing holiday with pets.