Try a Foodie Trip to Cartmel
Posted 17th July 2018 by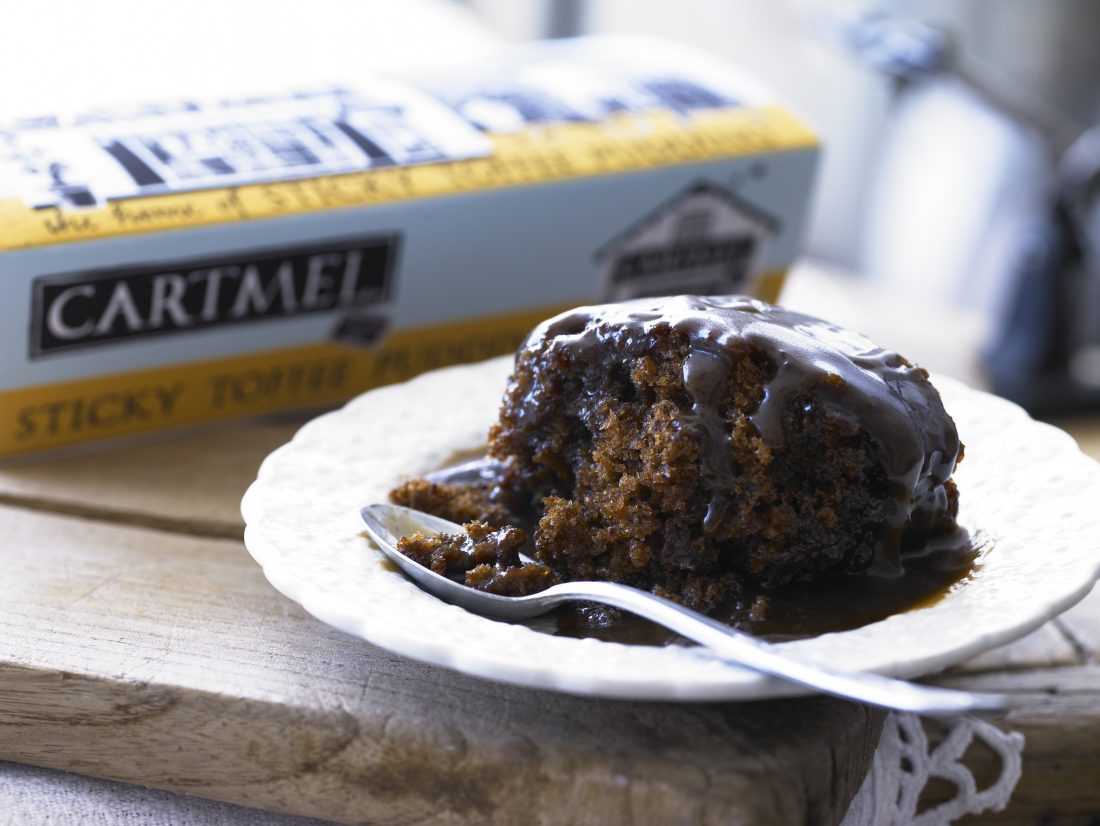 Cartmel Village: The Lake District's Gastro Capital
Nestled right on the edge of the South Lake District, in fact just outside of its border, is the medieval village of Cartmel. Regardless of its 'outsider' location, any Lake District write-up about top places to eat in the region involves Cartmel. Whether it is foodies with a sweet tooth, lovers of the craft of food production and meeting the producers themselves or those that looking for experimental and creative tasting menus, Cartmel has it all wrapped up.
Join us on a foodie tour of Cartmel.
The Sticky Toffee Pudding Company
For some it is the world-famous Sticky Toffee Pudding that first put Cartmel on the foodie map. In the heart of all country villages and communities is a village shop and it was in Cartmel Village Shop 20 years ago that the now world-famous Cartmel Sticky Toffee Pudding recipe was first created.  Today, the pudding is still lauded by top chefs. Cartmel Sticky Toffee Pudding Company say this is because of the top-secret recipe method, where still 100% natural ingredients are used and the fact that their products are still hand-made, as even they even ladle the heavenly sauce over by hand.
As well as Cartmel's Village Shop, the indulgent puds can be found on the shelves of Selfridges, Waitrose, Harvey Nichols and Fortnum & Mason and with the strong Cartmel branding, has put the Cumbrian village firmly in the minds of people who appreciate quality food products.
"…dangerously easy to warm one in the oven and slather it with cream…" NIGELLA LAWSON 
The Simon Rogan Empire
Now this is where Cartmel's profile on the world food stage really started to take hold.
We have called this the Simon Rogan 'empire' as many may not realise that the Michelin-starred chef who has lived in the Lake District for over 16 years has 5 culinary businesses: 2 in Cartmel village itself, 2 in London, plus 'Our Farm' (just outside Cartmel village) that provides the fresh and seasonal ingredients for both. The there is the Shop too.
Holidaymakers visiting Cartmel making a culinary mecca to the area, most definitely should try L'Enclume and Rogan & Co, Simon Rogan's Cartmel eateries. There's high demand for the high-end L'Enclume, Cumbria's only two Michelin-starred restaurant, and so adding your desired dining dates to their waiting list months in advance is advised. Housed in the village's former blacksmiths, the original anvil is kept in plain sight and the restaurant owes its namesake to the anvil, translated into French – l'enclume.
For Rogan & Co, which is a more relaxed delivery of Simon Rogan's culinary creativity, and cheaper too, you can walk in and check availability but are also advised that booking is best to avoid disappointment.
Cartmel Cheeses & Bakehouse
Just across the road from the 12th century Cartmel Priory, at the entrance of Unsworth's Yard, you'll find the understated black umbrella of Cartmel Cheeses. You enter through sliding doors, as though you are walking into an immaculately organised cheese refrigerator and realise you're onto something special.
Unsworth's Yard artisan food shopping experience is like Disney World for foodies.
It is the obvious commitment to their product at Cartmel Cheeses that instantly impresses. From start to finish, buying cheese from here is an experience of grown-up gastro thrills and delights. The amazing smell, perfectly preserved in the refrigerated shop, is your first experience as your eyes and nose take in the bewildering range of mainly English and Irish cheeses. Expertly knowable staff then make the sampling and buying of your curd an irresistible pleasure. There's also lots of lovely chalk-board labels and hints to help you in your buying journey, as you consider local raw milk cheeses, goats cheese or French specialties. You can also pick up freshly baked bread and pies, chutneys and jams, biscuits and cakes.
Finish off in the beautiful courtyard of Unsworth's Yard, having been given a cheeseboard for your 'tasting platter' and buying a beer from the neighbouring Unsworth's Yard Brewery. Alternatively, if the weather doesn't suit take your cheeseboard to Unsworth's Yard Wine Snug, where you can buy a G&T, or glass of wine from their Drinkshop. Fancy yourself a wind-buff? Go head-to-head with owner David Unsworth, who has unrivalled knowledge of world wines and fine liquors.  Specialising in small batch production and raw milk, Cartmel Cheese, off Unsworth's Yard, is for those who have a real appreciation for craft and artisan food producers and the 'experience' of grocery shopping.
Every 3rd Friday of the month, David Unsworth also arranges Cartmel Food Market.
The Cavendish Arms
A foodie trip to Cartmel really is where old and new meet. Sandwiched between Simon Rogan's two Cartmel restaurants is the 500-year old coaching inn, The Cavendish Arms. Here you will enjoy an outstanding pub grub experience that is befitting of its high-class foodie neighbours.
The period property, that is immaculately kept inside and out, gives a welcoming sense of history that Cartmel's main attraction Cartmel Priory bestows. In fact, there has been a pub and brewery on the site of The Cavendish for over 800-years, and once there was a large sign above the arch of the medieval Cartmel Priory Gatehouse, welcoming visitors to 'THE CAVENDISH ARMS. THROUGH THE PASSAGE'. The beams, low ceilings and antique furniture is where the 'olde' stops, however. The restaurant menu is a modern take on pub classics, with their Cartmel Valley Sausage and Cumbrian Burger popular classics. The experience is authentic and passionately local, as with all of Cartmel's culinary hotspots. Even the staff are extremely local, with the pot washer having been at the Cavendish Arms "in one form or another" for over 20 years. The Cavendish has all you could ask for from a traditional pub restaurant experience, complementing the other Cartmel dining options perfectly.
A Foodie's Mecca in the Lake District
It is not without coincidence that the medieval village of Cartmel connects all of these quality food craftspeople.  Within each of their understated, and oft black and white branding, a nod or tip of the hat is given to Cartmel village. With the advent of online shopping and with Rogan's London presence, you can easily try these tasty Cartmel delights but we recommend a pilgrimage to Cartmel to enjoy the full foodie experience.
Read more about a holiday in Cartmel and browse our beautiful collection of Lakelovers Cartmel cottages. The below selection are some of our newest holiday cottages in Cartmel.
Low Dog Kennel Cottage | Field Broughton, Cartmel | Sleeps 4 | Dogs Welcome
The Lodge | Bouth, Rusland Valley | Sleeps 2 | Dogs Welcome | Hot Tub
*only a 10 minute drive from Cartmel
Hedgehog Hideaway | Lindale, Cartmel | Sleeps 4 | Dogs Welcome | Family Friendly 
Kathryn's Cottage | Cartmel Village | Sleeps 4 | No Pets