The Place To Sparkle
Posted 30th October 2017 by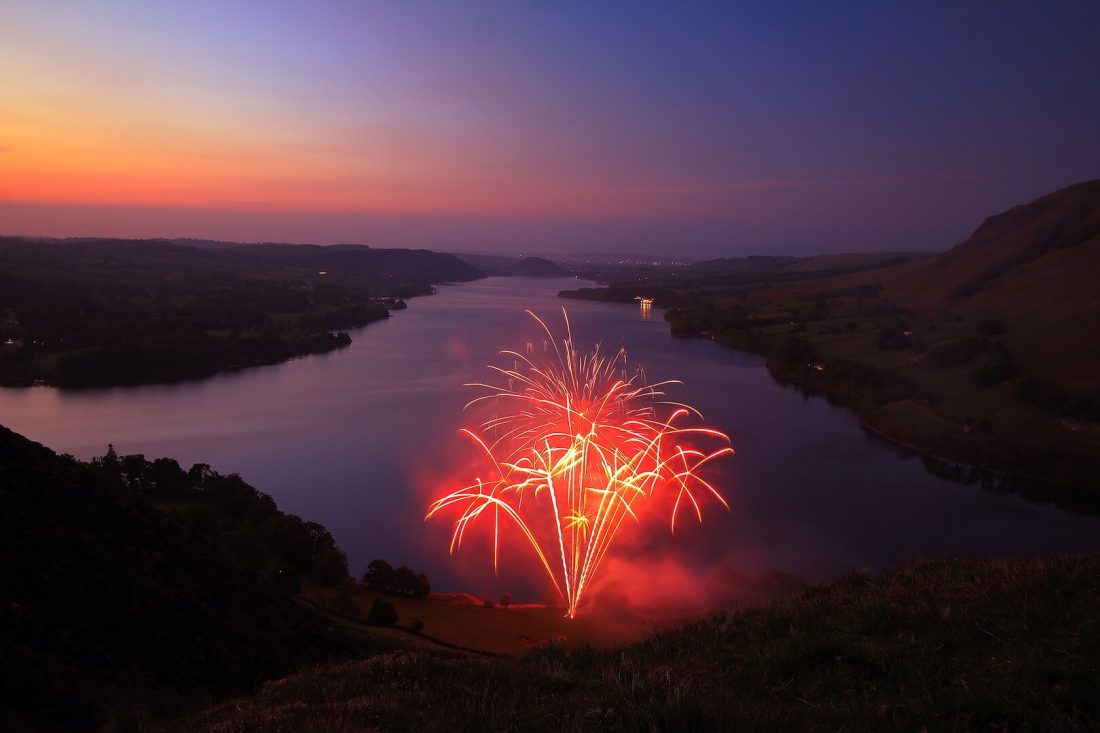 Firework Displays and Bonfire Events 2017 in the Lake District
Bonfire Night is the perfect antidote to the dark, wet and windy weather that is typical of the UK in November. We wrap up warm. Wellies or muddy boots are pulled on, as are hats and scarves. You can feel the excitement in the air as kids stay up past their bedtimes to enjoy the pyrotechnic wonder that is Bonfire Night.
"Hello" is written in the trail of a sparklers glow and we realise that this is the beginning of the winter party season. It is a time for all that glitters and shines and here in the Lake District, we can't wait!
Looking up towards the stars and heavens also has a sense of romance, as we huddle together to keep snug. And even for the seasoned reveller, the whoosh and delayed bang of those rockets, the smoke from fountains, the fast popping of the firecrackers, the eerie screechers and sudden bang of the aerial star shells illuminating the dark the skies, will always surprise and delight. Then there are the hand-held sparklers, whirled around to spell out the names and sentiments of merrymakers.
The vast dark and quiet sky of the Lake District is a particularly good setting for an open-air event such as a firework display. There's plenty of space for kids and friends to come together. Parents can relax as much smaller crowds visit a Lake District bonfire show, compared to many inner-city events that can attract hoards, not least the thousands that turn up in London, home of the original Gun Powder Plot, to revel in awe and amazement.
Here are some of the Lake District's top bonfire events and firework displays for families, couples, friends and pets to get you into the sparkling spirit of things to come this winter.
The Britannia Inn Firework Display, Langdale
Only 7 miles outside of the bustle of Ambleside, Elterwater is a pretty little hamlet in the craggy Langdale valley. Here The Britannia Inn is a Lake District icon, and serves up hearty pub nosh and a refreshing pint, including their specially brewed Britannia Gold, from the Coniston Brewing Company. From 8pm on the 5th of November they host a low-key Fireworks Night, where good food and drink and lots of cheer are the order of the night. Bring your own sparklers and enjoy the fun. Weather permitting, you can also enjoy Britannia Gold and Mulled Wine from the outdoor bar, as well as toffee apples. If you're staying in the Ambleside or Langdale area, we'd definitely recommend visiting the Britannia on bonfire night.
Fire & Feasting at Lowther Castle on Bonfire Night, Penrith
This is an upmarket soirée with sparkles galore! This ticket-only event is designed around the timeless festival of treason and gunpowder plots, where the theatrics of fire and colourful explosives are combined with music and food to make this a very grown-up celebration. For this and other winter events, Lowther Castle have teamed up with Kendal Calling, and it promises to be a very celebratory style occasion where lots of sparkle is expected. There's a fully heated outdoor real ale and gin bar and a bus service from Penrith and Kendal. Just don't forget a warm overcoat.
Windermere RUFC Fireworks & Bonfire, south Lake District  
Compulsion to attend an event on the 4th of November to celebrate the defeat of Guy Fawkes' attempt to blow up the Houses of Parliament, is far from the theme of this Windermere bonfire and firework show. This is a relaxed family friendly occasion where you can buy ticket at the gate. Whilst there are refreshments of a fashion available, the fireworks and huge bonfire are the main attraction. We recommend walking to this one if you can as parking can be tricky at this popular event.
Winter Festival and Fireworks Display, Kendal Rugby Club
This is another well-established bonfire event, although previously held at Kendal Castle. This year's winter festival will offer a full party atmosphere including bar, live music, fairground rides and food. This year the fireworks display is hosted at Kendal Rugby Club's new ground and with an estimated cost of £10,000 is sure to captivate.
The musical display is to be a spectacularly dramatic performance of big bangs which are sure to light up the skies above Kendal. Warm up in the Player's Lounge with a 'Pyrotechnic Pie, Peas and Pint'!
Fireworks Night & late-night shopping Hayes Garden Centre, Ambleside
This offers a very civilised alternative for a fireworks display to a muddy sports field. The largest garden centre in the Lake District host superb seasonal events, and their fireworks night is one of them so be sure to book a ticket to avoid disappointment. Tickets include the illuminated display, discounted shopping and bonfire-style food. Hayes of Ambleside's renowned World of Christmas, displaying all manner of baubles, lights, garlands and sparkling festive accessories, will be open and great for getting into the party spirit of things to come this winter. The 10% discount for ticket holders will also provide useful for a spot of early Christmas shopping.
Bonfire & Fireworks Displays in Coniston and Hawkshead
If you're staying in Hawkshead or Coniston, both have well-attended village centre bonfire and firework displays and the unusual throngs of merrymakers that fill the village streets for this night have a real community event feel.
Both displays are on early on at 6.30pm (fire lighting from 5:30pm), which is perfect for families staying in these delightful villages. You can walk to both Hawkshead Recreation Ground and Coniston Sports & Social Centre and wonder back once little eyes start to droop. Both are donation entry and look out for the community made Guy Fawkes figures.
If you don't have kids with you, the firework display can make a nice pre-dinner occasion, before either heading back with the crowds on foot to your cosy cottage or perhaps sauntering to a local pub for an evening meal, generally served until 9pm.
If you're driving, the Drunken Duck at Outgate has an elevated position outside Coniston and Hawkshead, and looks down on Ambleside. It is a great place to enjoy the festivities of Bonfire from a distance! Arrive early enough and you'll be able to take in the nearby Skelwith Fold Caravan Park's popular Bonfire event, which includes family activities to keep little feet warm, such as Welly Wangin' and Shoot 'n' Score!
Cartmel Village Trust Bonfire & Firework Display, Cartmel Racecourse
For those staying in Cartmel or the south lakes, this parish event is nice and handy. It is a donation entry event, where contributions go towards the village playground. As it is essentially free it is not an expensive night out, and there is parking in the racecourse paddock making it all very easy. You can't take personal sparklers, but the very popular display will certainly keep everyone entertained. The local Cavendish Arms is close to the racecourse and offers upmarket dining and drinking for if you want to continue the celebrations into the night.
The Full Moon Club, Troutbeck
The historical Troutbeck valley is a remote setting for a peaceful Autumn break away, where walking is the main pastime. This November 3rd, the popular Lake District pub, The Mortal Man, hosts the Full Moon Club as drinkers and diners enjoy the natural illumination of a winter full moon set against the midnight black Lake District sky. This is a nice alternative to attending a rocket-fuelled Bonfire Night.
Lyth Valley Bonfire & Fireworks Display
For illuminations across the pastoral idyll that is the Lyth Valley, 10 miles outside Kendal, enjoy the free display from the gorgeous terrace of the Lyth Valley Country Inn this year. There will be a bonfire to warm hands plus live music from Fiona Music In The Lakes to warm spirits.
Lakeside Illuminations
If you're wanting to really get into the party spirit, a lakeside hotel restaurant is a great place to enjoy a firework display over a lake. There are ticketed events at various venues around Lake Windermere.
Dog Firework Fear
If you are holidaying with anxious pets, you don't necessarily need to plan to escape the festivities. There are soundscapes on YouTube that you can play to help desensitise the bangs or, for some, closing the curtains and raising the volume on the TV works. ThunderShirts, which apply a gentle pressure to a pet's torso, are also popular during bonfire night.
Also, the Dogs Trust offer a superb free programme of therapy sounds that you can download to help your pet get used to the frightening sounds of fireworks.
10, 9, 8 . . . let the countdown to Lake District bonfire night and firework displays 2017 begin.
Stay safe this Bonfire Night and do share photos with us on Facebook  and Twitter #BonfireNight, if you can.